Solar road stud light are a low-cost, self-contained, solar-rechargeable, LED illuminated marker. Solar road studs can be used to reduce speed, signal driver attention to common features, hazards, and dangerous bends on our roads. Solar Road Markers are not to be used as a replacement of Retroflective Raised Pavement Markers (RRPM) but as a new high-tech alerting device.
This solar road stud lights are naturally charged by the sun.As soon as it starts getting dark the LED lights in the stud come on automatically each night for up to 10 hours. Solar road stud for bikeway have been specifically designed with road safety in mind and can help to prevent serious accidents and emit rather than reflect light. Solar road studs are also known as solar raised pavement markers, solar reflective lane markers and solar warning devices.

Key Features of  PC solar road stud light:
– Up to 800 metres of visibility.

– Reliable all night, all year round performance.

– Totally sustainable harnessing free solar energy.

– Used where street lighting is either unavailable, not cost effective or environmentally impossible.

– Maintenance free

– Self contained surface mounted.

– The thickness only 11mm.
The Specification of PC solar road stud light for bikeway:
Body material
PC
Power supply
High efficient solar panel(5V/60mA)
Battery
Lithium battery(3.2V/500mAh)
LED
Ultra bright diameter 5mm( 6pcs)
LED color
Red, Yellow, Green, Blue, White
working mode
Recharging at day and working automatically at night
Flashing mode
Blinking or constant
(charging at daytime and working automatically at night)
Life Span
5years for Lithium battery;
Waterproof
IP68
Visual distance
>500m
Working temperature:
-20°C-80°C
Load capacity
>15T
Size
114*90*11mm
Weight
120g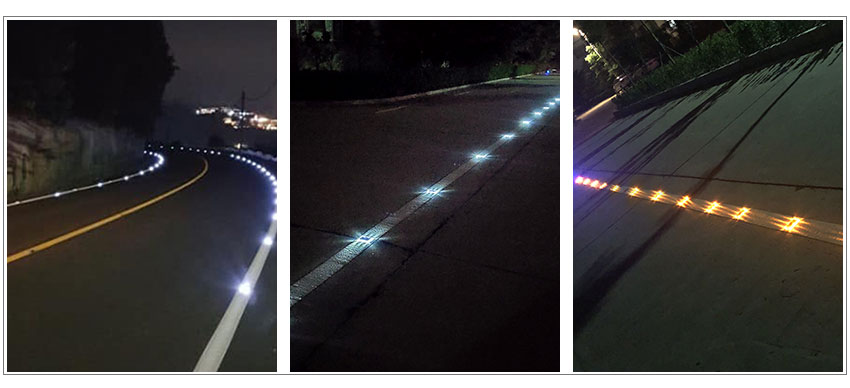 The thickness of this ultra thin PC solar road stud light is only 11mm, more thinner than traditional solar road stud lights whose thickness is usually 20-30mm.When people walk or ride through PC solar road stud light,they will feel smoother, less prone to tripping and feel less bumpy. This solar studs for road are most commonly used in parks or sidewalks.