This solar road studs for highway can illuminate the expressway without a power grid. Each solar stud light contains its own solar collector and LED lights, and a microprocessor that manages the power supply, so that a few hours of sunlight can give them enough energy to illuminate for a few days.
This shank aluminium solar road stud is designed to larger size and equipped with a large solar panel. The special mix glue can protect reflectors make the compression resistance ability higher.The high efficient solar panel makes the solar stud can extend the using of a battery. All of these designs make the solar stud light very strong as well as increase the lifespan. It's no problem to be installed in any poor places with poor sunlight, rainy days, and a lot of heavy vehicles.This alumionium solar road stud light is widely used in the European Union, the United States and other countries.

The Specification of solar road stud light:
Body material
Aluminum(GB-ADC12)+PC(Japan Brand)
Power supply
USA Brand High Efficient Solar Panel
Battery
NI-MH1.2V/600MAH(high temperature resistance, Made in China)
Lithium battery3.2V/500MAH(Made in Japan)
Water proof
IP68
Visual distance
>800m
Life span
2years for NI-MH battery;
5years for Lithium battery;
10years for super capacitor
Load capacity
>30T(can be installed in the middle of road)
Size
L125mm*W107mm*H26+50mm
Featurers of solar road stud light:
– High brightness America brand led light with 100000 hours of working time.
– USA brand solar panel. 22% high conversion rate. Fast charge rate.
– Japan brand casting Al material. Solar stud bears more pressure.
– Most quality Epoxy resin glue to fix the solar stud, making sure of solar power charge.
– Philips PC board, safe and stable. Long time warranty for road stud reflectors.
– The leader of solar road stud. Load capacity:>30T(can be installed in the middle of road)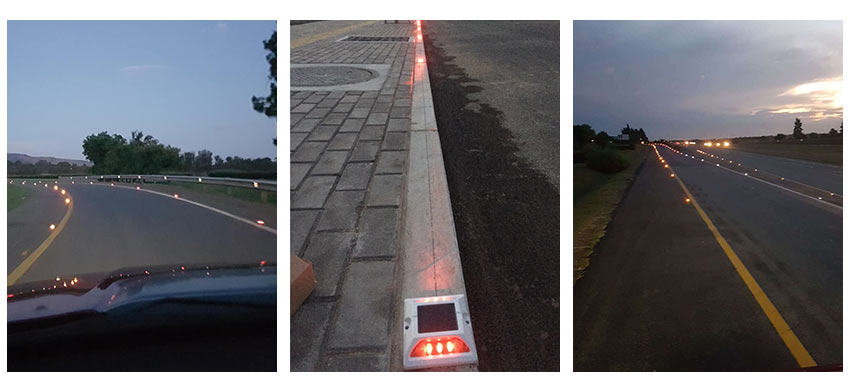 The advantage of these amber raised solar road studs is that they can also play an effective role in heavy rain, mist or fog. This amber raised solar road stud light from NOKIN can be used in expressway, highway,freeways, urban road and other heavy traffic road.